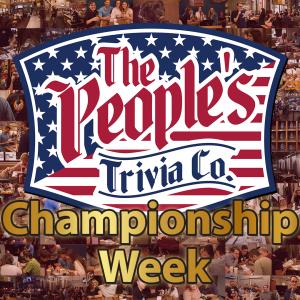 Welcome to The People's Trivia Championship Week!  All games from January 15-18 will be individual championship games to celebrate the end of our first season.  We will be handing out season awards earned throughout the year, and have a handful of additional prizes and surprises to give out to official teams who played last year.  Did you do well this season? Well, your team will be enjoying a "leg-up" during this game.  By no means does it guarantee victory, but advantages will be handed out to teams who earned them during the season.
Brand new teams are welcome to join and can still win the venue's regular prizes- although the special hardware and championship prizes can only go to teams who registered in 2018 and played at least one game at their venue.
This will not be a game to miss, see you there!
Championship Week Schedule
Tuesday, Jan 15th Tuesday, Jan 22nd (due to rainout) – Alosta Brewing – La Verne 7pm
Wednesday, Jan 16th – Strum Brewing – Ontario 7:30pm
Thursday, Jan 17th – Alosta Brewing – Covina 7pm
Friday, Jan 18th – Hollingshead's Deli – Orange 7pm